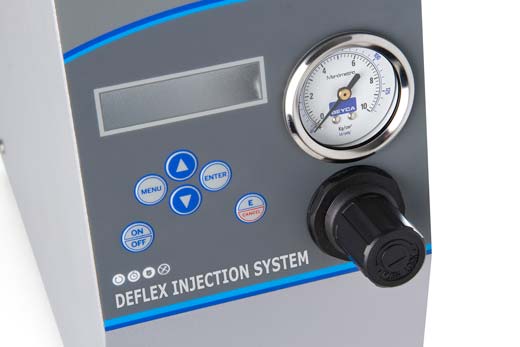 MAD1300 TOUCH model
Effectiveness and practicality
Maximum time saving
Powerful
Easy to install, easy to operate
CHARACTERISTICS OF DEFLEX INJECTION DEVICE
Pneumatic with integrated oven
Unlike manual injectors, the strength and speed of the injection will always be the same, and not will depend on the operator who tampers with the equipment. This ensures a quality of consistency injected into each injected prosthesis.
The oven is integrated with the pneumatic cylinder, which is not necessary to move the cartridge that is in place, saving time and avoiding possible problems of injection, which may arise from the transfer of the cartridge.
Fully automatic*
Place the flask and cartridge, select the desired parameters, and activate the automatic cycle. Once the cycle is completed, the flask will already be injected, and available for a new injection.
*MAD1300 model has 7 pre-configured and 7 free programs. Selecttheprogramcorresponding to the material thatwill be injected, or set custom programs.
Compact, easy to install, ease to use
Occupies an area of 15cm x 30cm. It only requires an air compressor, and access to an electrical outlet. The manipulation of the device is extremely intuitive.
The flask adjustment system runs with a single movement and a single folding handle, saving operational time.
Powerful
The pneumatic cylinder was developed with one wider diameter than the conventional, and drives a compressive strength of 862 Kg 6.5 Kg/cm2 = 1900 lb to 92.5 PSI, making it the most powerful in the market. This is not a minor technical detail, because the greater compaction forcebetter quality of the injection, giving as a result molecularly more compact materials, which facilitates the work of retouching and subsequent brightness obtaining.

Pre-heating of the flask during the injection cycle
It doesn't require that the flask is pre-heated in a separate oven. The flask is positioned on top of the oven at the beginning of the heating cycle, and is taking the appropriate temperature to avoid thermal shock with the injected material.
6th Generation of Deflex injectors
MAD1300 TOUCH is the 6th generation of injectors manufacturer by Deflex. It is the product of a continuous evolution, and an accumulation of experience in the specialized area of injected prostheses.
Ask for availability of injectormodels, diameter and powersupply by country.