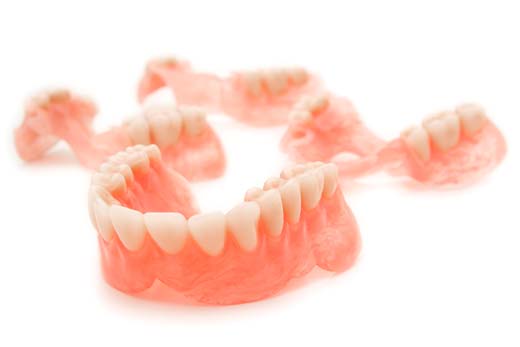 Presentation
Deflex dentures offer thermo-injectable materials with different balances of flexibility and stiffness that allow for multiple applications for removable dentures.
The polymers are highly resistant; contain elastic memory, minimal liquid absorption and very low shrinkage levels.
They are known as flexible dentures because the first materials that were used to make this type of dentures were very flexible in the beginning, and that was a way of distinguishing them from conventional materials, such as acrylic and cobalt chromium. Nevertheless, Deflex has opted for the term "injected dentures" or "aesthetic dentures", especially for the achieved aesthetics in partial dentures due to the absence of metallic retainers.
Deflex dentures are metal-free.
Qualities comparison with conventional acrylic dentures
Aesthetical pleasing: Translucent inconspicuous retainers in partial dentures
Lightweight: Optimal retentiveness. Reduced thickness. Improvedphonetics.
Biocompatible No metal. Hypo-allergenic.
Resistant Highly resistant to blows and falls
Functional Flexibility ensures better preservation of support teeth
Aesthetical pleasing
Lightweight
Resistant
Applications
MAIN APPLICATIONS
Partial dentures
Full dentures
Partials combined with chromium
PARTIAL DENTURES
Aesthetic and functional
The powerful market entry of these dentures is driven by great public acceptance, and supported by the outstanding aesthetics achieved in the mouth. This was an unresolved issue in the removable rehabilitations field.
The absence of metal and the natural color of materials have a positive psychological impact on the patient, accompanied by greater and faster denture acceptance.
Besides their excellent aesthetical qualities, dentures manufactured with Deflex materials achieve a much more favorable functionality as compared to acrylic dentures. With the appropriate design and thickness, Deflex dentures offer a fine balance between flexibility and stiffness.
Flexibility ensures:
Giving way before stress, avoiding leveraging
Comfort and easy adaptation
Adequate retention properties
Stiffness ensures:
Sharing loads, avoiding tissue damage and retraction
Occlusal rests, preventing dentures from being intruded
Freedom of design
FULL DENTURES
More resistant, lighter and hypo-allergenic
Why make a full denture with a Deflex thermo-injectable material?
Deflex thermoplastics offer the following advantages in comparison with conventional acrylic:
They are monomer-free
They have greater resistance, providing reduced thickness, lighter dentures, and a very low fracture rate
They show very low volume shrinkage
DENTURES COMBINED WITH CHROMIUM
Deflex aesthetics Chromium functionality
When make an injected denture combined with chromium?
When the dental professional prefers the well-known functionality of cobalt-chromium, but at the same time prioritizing the patient's aesthetic appearance, by substituting translucent clasps that go unnoticed in the mouth for metal clasps.