DEFLEX ZIRCONIA
Blocks of zirconium oxide (for milling of bridges and crowns)
5 DEFLEX ZIRCONIA OPTIONS
Edge
Medium translucency zirconia
Suitable to be coated with ceramic for zirconia
Vitrum
High translucency zirconia
Suitable for monolithic structures without the need for applying ceramic veneers.
Shade
Tooth colored zirconia
Pre-colored in colors A1,A2,A3,A3.5,B1,B2 and B4
Stratos
Multilayer Zirconia of high translucency
Available in colors A1,A2,A3,A3.5 and B2. It has 7 layers of variable coloration, from gingival to incisal. Ideal for milling anatomical structures
Vitrum XT
Extra-high translucency Zirconia
Produces monolithic restorations, including in the anterior region (For structures of up to 3 pieces)
Benefits of Deflex Zirconia
High precision in pantographs and Cad/Cam systems
Maximum compatibility with porcelain for zirconia and pigments
Uniform density that allows for predictable contraction coefficients.
Variety of forms and thicknesses for a wide range of milling systems.
Deflex Zirconia
Deflex Zirconia
Porcelain-coated bridges
MECHANICAL PROPERTIES
| | | |
| --- | --- | --- |
| PROPERTY | Deflex blocks | Minimum requirement ISO 6872 |
| Flexural strenth | 1618 | 800 |
| Stiffness [HV10] | 1320 | Not specified |
FORMULA (ZrO2) 0.97 (Y2O3) 0.03
SINTERED MATERIAL DENSITY
6.02 a 6.05 g/cm3
COMPATIBILITY WITH PORCELAINS AND PIGMENTS
Thermal dilation coefficient = 10,1 x 10-6 1/K (Compatible with all porcelains for zirconia).
SINTERING PROGRAM
| | | | | | |
| --- | --- | --- | --- | --- | --- |
| Initial temp. | Final temp. | Heating speed | Time spent | Cooling speed | Opening oven temperature |
| Ambient temp. | 1450 °C | 8 °C/min | 120 min | 8 °C/min | 300 °C |
TYPES AND MEASURES
76 mm x 40 mm x 16 mm
76 mm x 40 mm x 22 mm
Diameter 98mm
10mm 12mm 14mm 16mm
18mm 20mm 22mm 25mm
12mm 14mm 16mm
 18mm
20mm 22mm 25mm
YZ-20/15 YZ-40/15
YZ-20/19 YZ-40/19 YZ-55
PMMA
Machinable blocks of PMMA for the making of temporary restorations
The blocks offer excellent workability and allow for restorations with high shine and translucency.
It is possible to machining from individual crowns to large bridges.
Also available opaque PMMA for milling of structures for diagnosis test and verification in mouth. The models can be scanned and import to the Cad/Cam software system.
TYPES AND MEASURES
76 mm x 40 mm x 16 mm
Diameter 98mm
16mm 20mm
13mm 20mm
YZ-40/19 YZ-55
COLORS
A1, A2, A3, A3.5, Opaque and transparent
DEFLEX PEEK
High performance polymer (Polyether ether ketone)


BENEFITS
High wear resistance (Non-abrasive to opposing teeth)

Withstands loads up to 3.6 GPa.

100% metal free

Lightweight

Biocompatible and hypoallergenic

Composite resin coating

Bone-like hardness

Low chewing impact on dental implants


APPLICATIONS
Infra-structure bridges and crowns (up to 1-2 intermediate elements)

Anatomical structure of bridges and crowns (up to 1-2 intermediate elements)

Telescopic crowns and screw-retained crowns

Implant bar for overdentures

Hybrid prosthetics

RPD frameworks (freedom of design)
TYPES AND MEASURES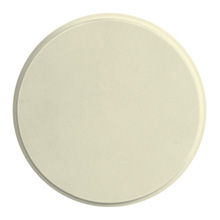 Diameter 98mm
16mm 20mm
COLORS
Beige (Ivory)
WAX
Blocks of machinable wax for milling of bridges and crowns
These can be used to make molds through the lost wax process for casting metals or injecting ceramic. The blocks offer excellent workability and allow obtaining structures with high dimensional stability that calcine without leaving any residue.
TYPES AND MEASURES
Diameter 98mm
16mm 20mm
13mm 20mm